Posted by
chuchy
on Sep 3rd, 2011 in
Uncategorized
|
65 comments
August was a silent month for WBFC. Why? Because it was my first time to organize Pasko sa Agosto and the time it needed came to me with a shock! I never knew holding a caravan of giveaways was so time consuming but it ended up with a great success! And you know what? We are doing it again!
But of course, I am not going to stop WBFC for this month. In fact, I am going to continue it because a lot of fellow bloggers have expressed their intent to continue sponsoring the prize money for all the participants. Isn't that great!! So therefore, every week we will be raffling of $5 to one lucky participant who follows the meme precisely. Aside from that, the participant can win more than once in a month!! Cool right?!
Anyway, don't think of WBFC as a weekly raffle or giveaway. The $5 is just an added bonus for joining. Having the heart to help one another is the most important thing. The $5 is just a cherry on top of a delicious banana split! Yum!! But wait!! Since I promised to start with a blast this September, we will be giving out two $5 to two lucky participants! Yay!! Yahoo!!
Now, without further ado… let's start with our WBFC #21!!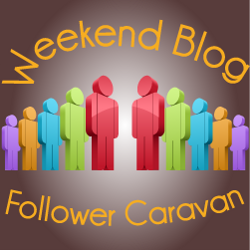 This week's task are the following:
1. Make a blog post with our WBFC Badge to welcome all our participants. Make sure your blog post has links to this week's sponsors: Coffee on the Side and Walking News Paper.
2. Submit your blog post to our linky tool below. Not your homepage URL.
3. Visit other participating blogs and leave a comment at our fellow participants' welcome post that you have followed them thru Google Friend Connect.
4. Again, follow all participants thru Google Friend Connect!!
5. Please a leave a comment here if you have done so. 🙂
Same rule applies. One blog per blogger per WBFC account. If you have three blogs, you need to triple the effort. You can follow using GFC Twitter, GFC Google and GFC Yahoo. Gets? 😀
I know Google Friend Connect is kind wonky this past few months but hey, we still we need followers you know especially our new blogs!



WBFC will end on Tuesday 11:59PM +8GMT. Thanks!!